Print

New MPs and new President
Your New MEPs
Link to the curriculum vitae of the 7th legislature's MEPs.
The new President of the European Parliament
The new President of the European Parliament, Martin SCHULZ, was elected on the 17th of January 2012 by a majority of the MEPs, with 387 votes. He replaces Jerzy BUZEK for the second half of the seventh legislature of the European Parliament.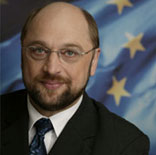 Internet site of the President of the European Parliament.
Source : Site officiel of Martin Schulz
Martin SCHULZ
Martin Schulz was born 20 December 1955 in Hehlrath – a small German city close to the German-Dutch-Belgian border. After high school he apprenticed as a bookseller and opened his own store in Würselen in 1982, which he ran for 12 years.
He began his political career at 19, joining the German Social Democratic Party. At 31 he was elected mayor of Würselen, a post he held for 11 years. "This time shaped my enthusiasm for Europe and the conviction that I wanted to help build and advance the European project", he says of his time as a local politician.
Elected to the EP in 1994, Schulz has served on a number of committees, including the sub-committee on Human Rights and the Civil Liberties Committee. He led the German delegation of the Socialist group (SPD members) from 2000 and was also a vice-chair of the Socialist Group in the EP. He was elected group leader in 2004, a position held until he was elected EP President. Since 2009, Schulz has also acted as representative for European Affairs for Germany's SPD party.
A well known face in European politics, he nevertheless maintains a strong link with his constituency. "For many years, I served as mayor of my town and listening to people's concerns and answering their questions was my daily business. This still remains a very important part of my job", he said.
He has a wife and two children. His hobbies include reading, history and football.
Source: European Parliament
follow Martin Schulz on Twitter
Facebook page of Martin Schulz
The new Vice-Presidents of the European Parliament
Gianni PITTELLA (S&D, Italy)
Miguel Angel MARTINEZ MARTINEZ (S&D, Spain)
Anni PODIMATA (S&D, Greece)
Alejo VIDAL-QUADRAS (EPP, Spain)
Georgios PAPASTAMKOS (EPP, Greece)
Roberta ANGELILLI (EPP, Italy)
Othmar KARAS (EPP, Austria)
Edward MCMILLAN-SCOTT (ALDE, United Kingdom)
Isabelle DURANT (Greens/EFA, Belgium)
Alexander ALVARO (ALDE, Germany)
Rainer WIELAND (EPP, Germany)
Oldrich VLASAK (ECR, Czech Republic)
Jacek PROTASIEWICZ (EPP, Poland)
Laszlo SURJAN (EPP, Hungary)

Since the mid-term elections of January 2012, the Quaestors of the European Parliament are:
Astrid LULLING (EPP, Luxemburg)
Jim HIGGINS (EPP, Ireland)
Lidia GERINGER DE OEDENBERG (S&D, Poland)
Boguslaw LIBERADZKI (S&D, Poland)
Jiri MASTALKA (GUE/GVN, Czech Republic)

Together, the President, the 14 Vice-Presidents and the 5 Quaestors are the Bureau of the European Parliament. The Bureau is the political organ in charge of the institutions's budget, administrative matters, employees and organisation.
Source : European Parliament